Description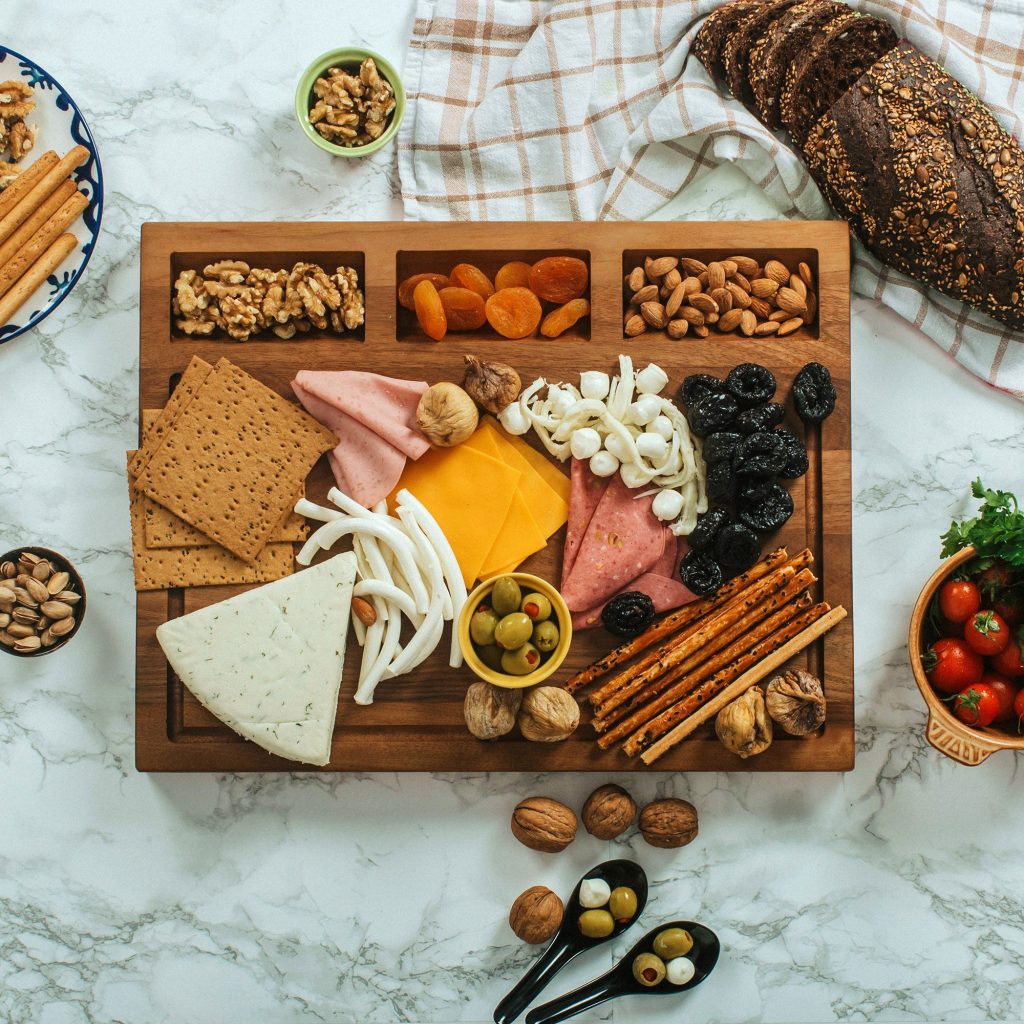 Walnut Cutting Board with Juice Groove and Sorting Compartment, Wooden Board, Chopping board for Meat
[ Exclusive Design ] – The dainty yet strong cutting board comes in an exceptional design that gives ease of chopping as well as makes it an ideal serving plate for parties, bbqs and gatherings. The eye pleasing appeal of the walnut wooden board is sure to turn many heads and get compliments from guests. Undoubtedly, a great kitchen accessory, this large walnut cutting board adds style to the kitchen.

[ Large Surface with Juice Groove ] – Our built-in juice groove holds up to 3 ounces of liquid to prevent water, juice, and grease from overflowing during meal prep. Perfect for cutting up fruits, vegetables, and carving meats like brisket, roast etc

[ Highly Durable ] – The walnut cutting board is made out of high quality Turkish walnut. Most importantly, the thickness and design are chosen with longevity in mind. 1.5 inch thick board allows for stability while cutting and the integrated finger grips make it easy to lift, flip or transfer from kitchen to table. The butcher block will not crack, warp or splinter for years and decades so, rest assured about the quality.

[ Reversible Board Doubles as Serving Platter ] – Finished on both sides, the walnut board can not only be used for cutting and chopping but also works as a presentation plate. Both sides can be used for cutting as well as serving cheese, breads, sandwiches, pizzas and more.

🎁 [ Perfect Gift for Cooks ] – If you have friends or family that loves to cook then this turkish walnut chopping board with sorting compartment is a perfect gift for them. They would love it for its durability, design, grip and convenience of cutting.
Turkish Walnut Cutting Board with Juice Groove
Extremely durable, walnut cutting board with sorting compartment is one of our finest products. The wood cutting board has natural grain patterns that add beauty and appeal. The grain patterns are unique for each board and gives each one a one-of-a-kind feel.
Walnut wood is high on durability and can withstand tough blows of cutting veggies and butchering meat. It does not harm the edges of the knives even with excessive cutting, dicing and mincing. One of the best products for culinary professionals, the walnut wood chopping board stays sturdy with least wear and tear. It does not blunt the surface of the knives while still retains its strength for decades.
Brilliantly crafted into reversible design, the boards can be used on both sides. You can use one side for chopping and other for serving to leverage their versatile aspects.
Pro Tips from Kitchen experts:
• Clean with warm water and soap. Wash away the soap. Air dry for best results.
• To prevent warping, it is recommended to wet each side equally.
• Avoid soaking or submerging the board in water.
• To increase longevity of the board, apply a light coat of mineral oil once or twice a month.
• Store in dry space, devoid of extreme temperatures.
Sorting Compartment
Simplify your meal prep as you dice just slide into the compartments to clear your cutting board and continue chopping. You can use the compartments for serving crackers, fruit, nuts, and more as part of a charcuterie board.
Stylish handle, smooth texture
The handle gives it the strong grip to hold and carry wherever needed. The smooth texture is achieved by coating the surface thrice with mineral oils, which makes it moisture free.
Top class material
The wooden cutting board is the best way to accessorize kitchen, dining table and outdoor parties. It is a wonderful equipment with a deep sense of style to compliment any party, big or small.
Reversible with juice drip grooves
The board has juice grooves on one side and flat surface on the other. Juice groove simplifies cooking along with keeping the countertop clean and tidy. Flat surface doubles up as a serving plate.
A luxury equipment for the kitchen
Extra thick walnut wood cutting board with juice groove and handle. Hardwood which is friendly to knives and does not blunt the edges. A luxury equipment for the kitchen, it is reversible and works well on both sides.
Thick and long lasting
Each of the three cutting boards are thick enough to withstand knife blows for years and decades at length. It turns out to be a one-time investment as the boards will last for a lifetime.
Dimensions: 18" L x 14" W x 1.5" H